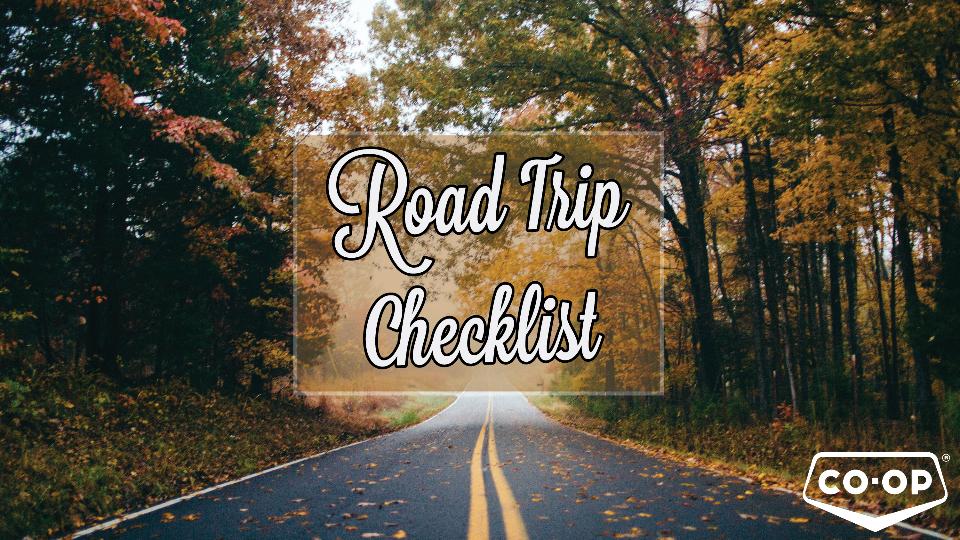 Fall Road Trip Checklist.
October 8, 2019
With Thanksgiving just around the corner, it means that many people will be hitting the road! Thanksgiving usually means gathering the kids in the car and heading to grandmas or maybe you're a student coming home from school. Whoever and wherever you're going, road trip safety is important.

It's fall and in Canada, that means wacky weather. Monday you may wake up and it's hot and sunny then on Tuesday may you wake up the ground is covered in that dreaded fluffy white stuff…. SNOW!
Safety starts with you. If you or your loved ones have a long road trip planned whether it be for the holidays or just for fun it's important to prepare yourself. At Valleyview Co-op Gas Bar/ C-Store our trained staff are ready to help you hit the road. From filling your gas tank to checking your oil level we are ready to help you have a successful road trip.
It's important to always do a vehicle walk around before hitting the road. Not sure what to check on your car? Check out this road trip checklist below to help get you started.
Road Trip Check List:
Windshield Wipers – Look these over and check for any cracks or splits in the rubber. If you see any indication of these it's time to replace the wipers.
Tires – Driving on underinflated tires can increase your chances of having a blowout and will hurt your gas mileage. Every car has different recommended tire pressures, not sure what yours is? Check your owner's manual. You can always stop by your local mechanic or tire shop for help as well.
Lights – Grab a friend and have them help you check your lights. Make sure to check your vehicle's headlights, turn signals, brake lights, and don't forget the high beams and license plate light.
Spare Tire – Make sure you know where your spare tire and tools are located in your vehicle. Check the condition of your spare tire. Is it time to replace it? This is important in case you do have a blowout.
First Aid Kit – Do you have one of these in your car? Is it up to date or are the products expired? It's important to have a first aid kit in your vehicle at all times. You never know when you may need one, and it would be horrible if it was expired or missing items. You can purchase first aid kits at your local drugstore or you can build your own.
Once you have checked off all the boxes on your road trip checklist you are ready to hit the road! It's finally time to put on some of your favourite tunes or perhaps your favourite podcast and hit the wide-open road! Always remember that "you're at home here" when you stop at any Co-op Gas Bar/ C-Store.
Are you taking a road trip? Did you use the road trip checklist? Tag us on Facebook, Twitter, or Instagram if you did.
Happy and safe travels!
Discover more: