It's Equity Season
June 1, 2022
A message from Valleyview Consumers Co-op Ltd. General Manager, Gregory Gill.
As the General Manager of Valleyview Co-op, I extend my gratitude for your continued business. Although COVID-19 continued to present challenges in 2021, it was encouraging to see the community come together to support one another.

Valleyview Consumers Co-op Ltd. experienced revenue more in line with pre-covid sales. Petroleum litres continue to rise; however, food did see a slight decline from the previous year. Crop supplies had strong results despite challenging growing conditions. As we finished our first full year of shared operations of Co-op Ag Equip with Twin Valley Co-op, we were pleased to see that profits exceeded expectations.
I am pleased to share that our Board of Directors approved an allocation of $2,184,000. Our Board felt it necessary to reward our members for their loyalty through 2021 with a 55% cash repayment. A total of 5,998 cheques were mailed, with an average total amount of $218.75.
To our members, guests and community groups, I would like to say thank you. Your continued support of Valleyview Consumers Co-op allows us to continue to offer quality goods and services in Virden, Melita, Oak Lake, Pierson, Kenton, Reston and Oak River. We are proud of the investments we have been able to make into community projects that foster a healthier environment for all.
We look forward to the opportunity to serve you and your family in the coming year.
General Manager, Greg Gill
g.gill@valleyview.coop
204-748-6700 ext 302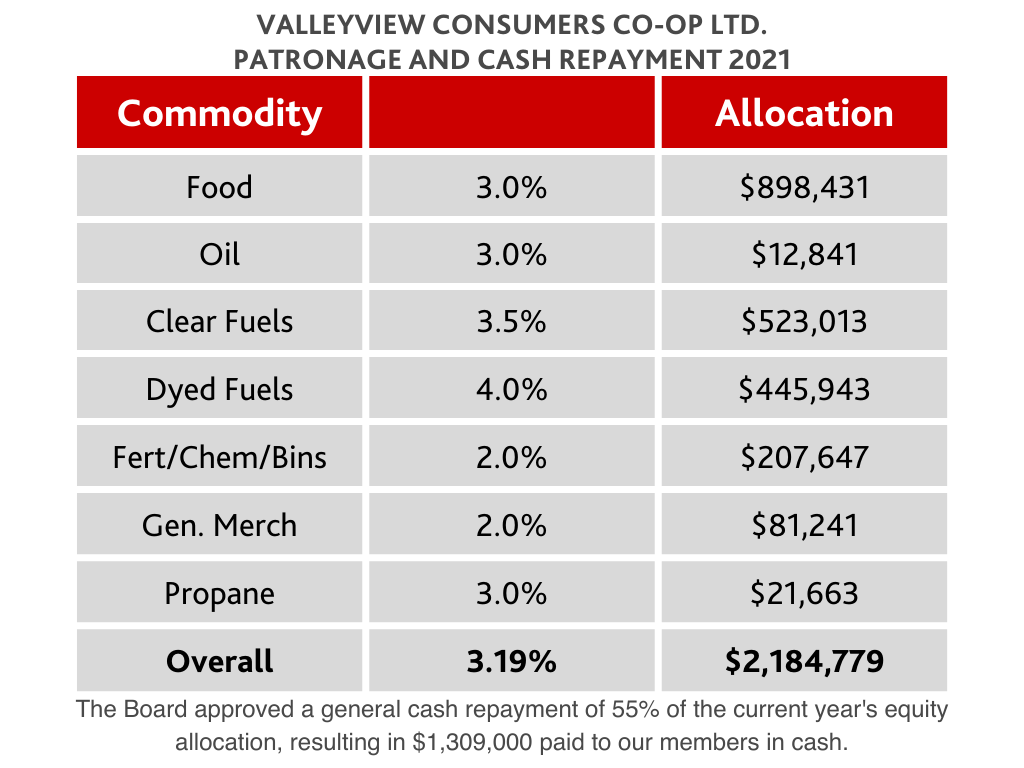 Discover more: