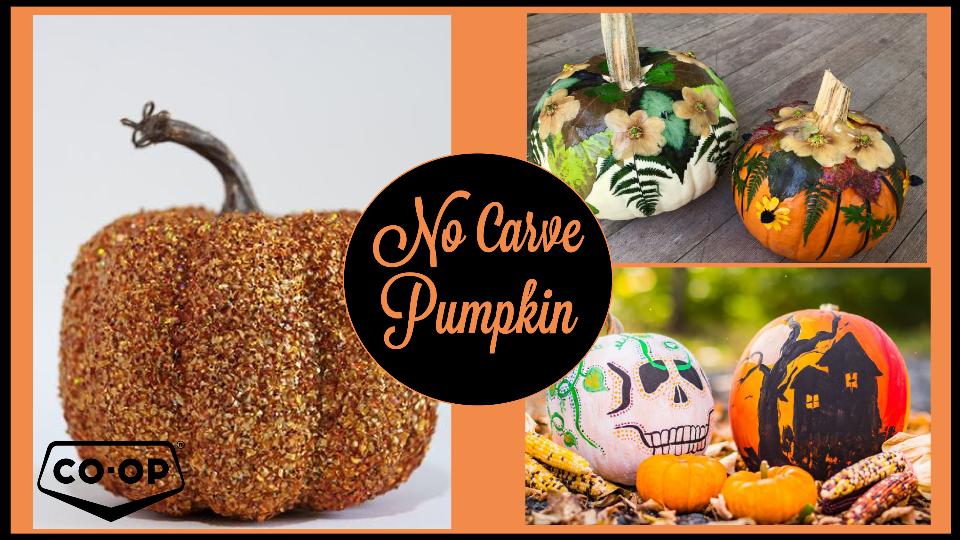 No Carve Pumpkin Ideas
October 1, 2019
No Carve Pumpkins
It's spooky season! With that being said everyone loves to carve a pumpkin. Am I right?! You spend hours drawing out your design and carving the pumpkin. It's a shame when it rots after sitting on your step for two days. All that hard work, blood, sweat and tears…. GONE.
How about trying something new this year? No-carve pumpkins are the perfect way to get your home feeling festive without the hassle and mess of carving. All ages and skill levels can do this. Start by heading down to your local Co-op and picking out a couple pumpkins. Once you're home with your new pumpkins the fun begins. You can now decide how you want to decorate your new pumpkin.
Here are a few of our favourite nocarve ideas, it's time to make something boo-tiful:
The Glitter Pumpkin
Grab your glitter and glue for this one! Be creative. You can glitter the whole pumpkin or maybe just use a little glitter. There is no rule on how much glitter to use. The outcome is a pumpkin that looks awesome on your porch or step! Trust us when the fall sun hits the glitter you will be amazed.
The Painted Pumpkin
The possibilities are endless with the painted pumpkin! Paint the whole pumpkin your favourite colour or write some cute Halloween sayings on them. Bust out your dusty craft box and use some stencils or stamps. Dip in paint, press onto pumpkin and voila! The best part about painted pumpkins is that you can paint anything you want on it so use your imagination to its full potential.
The Decoupage Pumpkin
Decoupage is an OLD art form dating back thousands of years! The nice thing about decoupage pumpkins is that they can be left out through Thanksgiving and the coming fall seasons. The options for decoupage are endless as it's such a versatile project! Gather some materials and get crafting. Some of our favourite materials to use are fabric, wrapping paper, scrapbook paper, leaves, and so much more!
Now that you have some great ideas for your new pumpkin; happy crafting!
We would love to see your final project, tag us on Facebook, Twitter, or Instagram.

Discover more: