Scholarships At Valleyview Co-op
Actions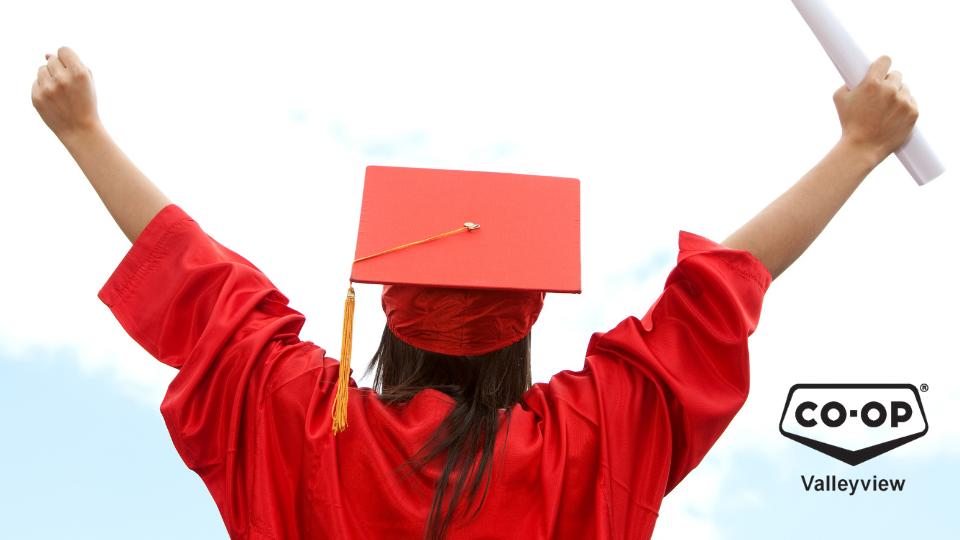 Scholarships At Valleyview Co-op
April 1, 2021
Are you preparing for the next stage of your education? Do you attend Melita School, Reston School, Pierson School, Virden Collegiate, or Hamiota Collegiate? Valleyview Co-op may have just the scholarship for you.

The Academic/Merit scholarship will award $500 to one student at each of the five schools listed. What makes this scholarship different is that it celebrates not only academics but excellence in athletics, the arts, or community service.

The following criteria will be taken into consideration when making decisions as to the award recipient at each school:

The successful candidate must display behaviors that align with Valleyview Co-op's values including acting with Integrity (displays trustworthiness and respect), Excellence (displays innovation and a drive to succeed), and Community (continual support of community).
Applicants must be entering a field of study that relates to the Valleyview Co-op's business (e.g. Business Administration, Agriculture, Retail, Accounting, etc). The Co-op has a wide variety of possible fields of study. Contact the HR Manager at the Administrative Office for more information.
Applicants must submit proof of enrollment in a post-secondary program by June 30th of their graduating year or if opting not to attend post-secondary education immediately after graduation by June 30th of the following year to qualify for payment. In this case, the student must inform Valleyview Co-op in writing of their intention to pursue education at a later date.
Applicants must provide a completed application form as well as a transcript of marks from the corresponding high school.
Please enclose any letters of support/reference that may assist your application.
Selections will be completed by the Member Relations Committee
The application must be received by May 15th of the graduation year.

For more information on the Academic/Merit award, contact Marcie Barkley at m.barkley@valleyview.coop or call 204-748-6700 ext 307.
Two additional scholarship will also be also be available to the graduating class of 2021. "Children of Valleyview Co-op Employees Bursary" will be awarded to a Grade 12 student whose parent or guardian is actively employed with Valleyview Co-op. The "Student Employee Scholarship Fund" is available to those who have been employed with Valleyview Co-op for a minimum of one year of continuous service at the time of their Grade 12 graduation.