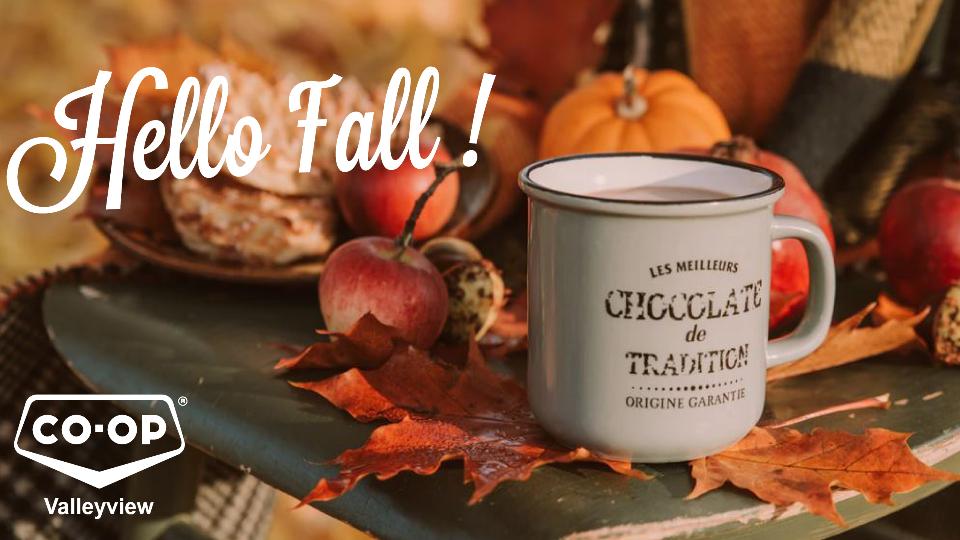 Taste of fall
September 27, 2019
Picture this, it's Sunday morning you're in your pajamas and all your windows are open. You can feel the cool autumn breeze coming in as you think about what to make for breakfast. You're in luck! Today we share our favorite fall breakfast with you. Prepare to become infatuated with these easy apple pie pancakes.
Although we ask why stop there, when you can pair these pancakes with a pumpkin spice hot chocolate! Don't worry you can make both of these delightful recipes without leaving the house or having to get out of your pajamas, we feel you on that!
So gather your family, friends, or just yourself and enjoy the fall day ahead! If you make these recipes let us know. Share a picture of your final product or a goofy picture while mixing and tag Valleyview Co-op on Facebook, Twitter, or Instagram.
Bon Appetit!
Apple Pie Pancakes
24 Servings Prep Time: 15 Mins Total Time: 45 Mins
INGREDIENTS
1 1/3 c. all-purpose flour 4 tbsp. butter, divided, plus more for cooking
1 1/2 tsp. baking powder 1 large egg, separated
1 1/2 tsp. cinnamon, divided 1 tsp. pure vanilla extract
1 tbsp. granulated sugar 1 1/4 c. milk
1/2 tsp. kosher salt 1/2 c. brown sugar
4 large apples, peeled, cored, and finely chopped (about 5 to 6 cups)

DIRECTIONS
1-Mix flour, baking powder, 1 teaspoon cinnamon, sugar, and salt in a medium bowl. Melt 2 tablespoons of the butter. In a large bowl, whisk to combine egg yolk, vanilla, milk, and melted butter. Gently fold dry ingredients into wet ingredients until just combined, then fold in 1½ cups of chopped apple.
2-In another medium bowl, using a hand mixer, beat egg white until stiff peaks form. Fold egg white into batter gently with a rubber spatula until just combined.
3-Make apple topping: in a small saucepan over medium heat, melt remaining 2 tablespoons butter. Add remaining apples, brown sugar, remaining 1/2 teaspoon cinnamon, and a 1/4 cup water. Cook, stirring occasionally, until apples have softened and mixture is jammy, 10 to 15 minutes.
4- In a large frying pan over medium heat, melt 1 tablespoon butter. Pour about 1/4 cup pancake batter into pan. When little bubbles appear, about 1 to 2 minutes, flip and continue cooking until both sides are lightly golden. Repeat with remaining batter, adding more butter to pan as needed. Serve pancakes topped with apple mixture.
Pumpkin Spice Hot Chocolate
1 Servings Prep Time: 2 Mins Total Time: 22 Mins

INGREDIENTS
1 cup milk ½ Teaspoon cinnamon
½ cup heavy whipping cream 1 Tablespoon Cocoa Powder
4 Tablespoon canned pumpkin 1 ½ Tablespoon sugar
2 Teaspoon pumpkin pie spice 1 Teaspoon vanilla extract
DIRECTIONS
1-Whisk all ingredients together in a saucepan over medium heat until dissolved and well combined.
2-Top with whipped cream and a sprinkle of pumpkin pie spice.
3-You can also serve with marshmallows and Pumpkin Spice
Discover more: