Valleyview Co-op Welcomes New EV Charging Station
Actions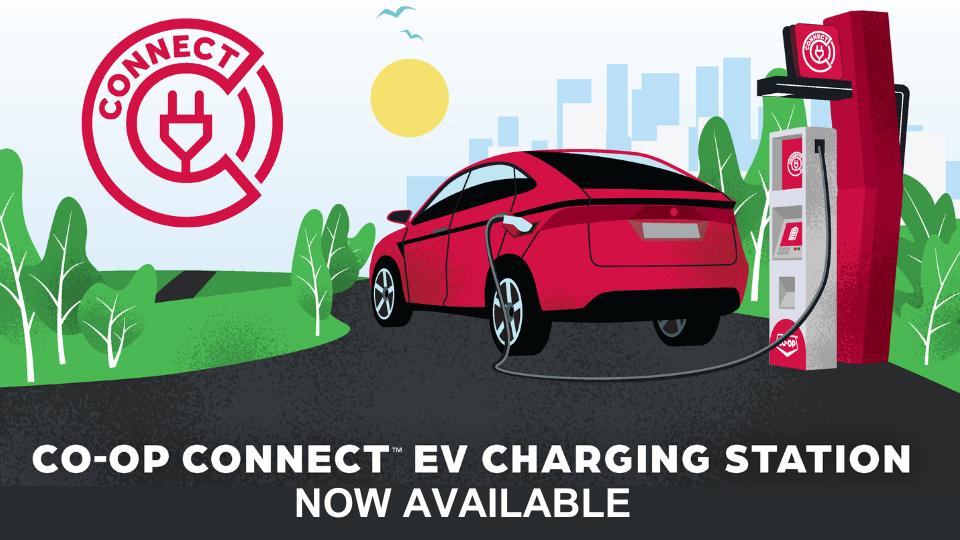 Valleyview Co-op Welcomes New EV Charging Station
November 3, 2021
Over the past few years, we've heard from many team members, local Co-ops and the general public asking when Co-op will be getting into electric-vehicle (EV) charging.
Today, Valleyview Consumers Co-op Ltd. is launching an electric vehicle (EV) charging location for Co-op Connect in Virden. This site is part of an EV charging network that will ultimately be comprised of 29 chargers in 12 towns and cities on the Prairies along the Trans-Canada Highway, from Winnipeg to Olds, Alta.
"This is an exciting project and one that local co-ops and individual Co-op members have been asking for. It's just another way Co-op is bringing people and communities together." said Brian Humphreys, FCL's Vice-President of Energy.

Gregory Gill, General Manager of Valleyview Consumers Co-op feels the addition of the EV chargers is an important step. "As we move forward we felt we needed to recognize the growth in the electric vehicle industry. As an energy company, we want to make sure that we are meeting the needs of all our members."
Drivers will be able to pay directly at the charger or use the Co-op Connect App. The app will provide the ability to find charging locations, start and end sessions, track the charging process and manage payment options.
More information on Co-op Connect can be found at https://www.fuel.crs/more/electric